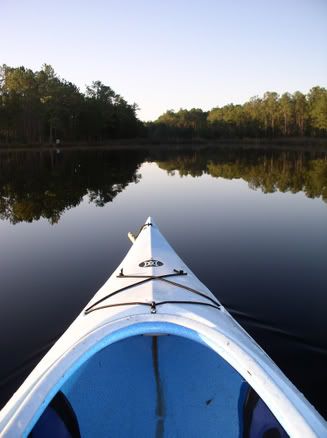 Missouri Art Therapist, Carol Lark, sent me this picture as a holiday gift. Isn't it beautiful? (Thank you Carol) It's called "Point of View" and it's what she does when she goes to her place in North Carolina! Sigh. She says, "This was taken at dawn one perfect, still morning in October on Long Creek, just around the corner from our house on stilts......"
After getting this from Carol, and also after reading
Keri Smith's blog
about her traditional Newfie gift giving which brought tears to my eyes (you should read it and see if you don't get tears as well), I thought I'd give this examination of traditions a try. (see yesterday's blog) After all, why not do the things that bring tears to your eyes? Why not do the things that mean the most to you. Why not do All That Matters.
I'm not much of a scale person, so here are the traditions that have been a part of my life at one time or another at this season, and my general feeling about the memories of them.
Giving gifts - Actually, it's always been the thinking up of gifts and the creating of gifts that I've always loved. I love the creativity and endorphin rush involved in generosity more than anything.
Receiving gifts - Of course this is really fun, but I think the fun of the previous tradition lasts longer and is more complex. (Except the above surprise gift of Point of View, of course)
Wrapping gifts - Again, if I can be creative with this I do enjoy it.
Sending cards - The past few years I've made little books for Christmas cards, and I REALLY enjoyed that.
Putting up and decorating a tree - I have enjoyed this very much, in the past, before cats came into my life and started deconstructing
the trees. Now I don't do trees.
Decorating your home inside - Love this as long as the decorations are out of the cats' reach!
Baking - As a kid and a few times since, one of my favorite things to do was bake and decorate ginger bread men. Wonderful!!!
Making and hosting the holiday meal - If it's a non traditional, vegetarian friendly meal, I love this. I've also been to many pot-luck Christmas dinners that were really the best. Doing it yourself is good, but doing it with others is Great! One of my favorites was a Christmas dinner with other Peace Corps Volunteers in Korea. The effort we all made to give each other a good Christmas away from family and familiar friends was stunning. After dinner we went caroling. This was perfectly acceptable in Korea, since singing in groups after a big meal is taken for granted.
Visiting family - This can be tough if you and family don't see eye to eye on the issues of simplicity, consumption, Politics, War, etc.
Visiting friends - Very enjoyable esp. if your friends are tolerant about your feelings towards simplicity, consumption, Politcs, War, etc.
Attending religious services - I love the carols and I love the celebration of the birth of the man who taught us to turn the other cheek, to love one another, and that the meek shall inherit the earth.
Listening to holiday music - I love traditional carols sung by English Choirs in Cathedrals, or St. Martin of the Fields. I used to attend the Winter Solstice Concert with Paul Winter et. al. at St. John the Divine in NYC and have always loved that.
Plumb pudding and reading A Christmas Carol - These are my absolute top favorite things. (I know, traditional plumb pudding has suet, but there are ways around that.)
Watching holiday programs on TV - I'd rather go to the dentist and get a root canal.
How would my holiday be if I did only the three to five things that I cared most about? Well, wouldn't that be blast?! You would end up with more time to do just what you want! Wow!!! (Karen Jones is so smart!!!)
Now suppose I choose to change or end a particular tradition, say the craziness around gift-giving with siblings; who gets what, who doesn't get enough, who wants what, why'd you get me this for goodness sake, I've only been your sister for your whole life, etc. etc. So if I wanted to end that particular stressor, what would I say?
"Because I cherish our sisterhood very much, I wanted you to know that I'm foregoing gift-buying for the holidays from now on. I will now be focusing on the simplicity and peace of the season. I would very much like to give gifts that are personal and hand made, as I've done in the past. I will be returning to things simple and meaningful. Maybe even something as simple as the fixings for a batch of cookies. They are fun to make and fun to eat!"
Wonder if my sisters read this blog?