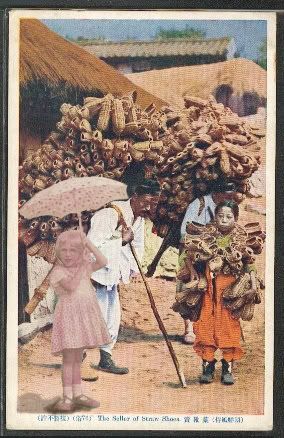 Playing with old postcard of Korea.
The Artist's Happiness Challenge is an e-course consisting of six artistic challenges (lessons) based on the current research being done in the field of positive psychology. I am posting challenges here.
Here's the Fourth Challenge; Gratitude Art:
This one comes from Dr. Seligman's teaching at the University of Pennsylvania. He was trying to figure out an assignment for teaching "altruism vs. fun" and he asked his students to come up with a task that would be altruistic. One student suggested they have a "gratitude gathering" and that each student could bring a guest that they would then read a testimonial about, as a way of showing gratitude.
In "Authentic Happiness,"Seligman has simplified the task to a gratitude letter to the person of your choice and a visit to this person to read the letter.
So here's my idea, instead of a letter, create a small work of gratitude art for the person of your choice. Find ways to express what it is about this person that you are grateful for within your piece. Then give it to them, and explain the meaning of your work.
After you have done this, give these questions some thought:
1) How did you feel as you were planning your response to the exercise? How did you feel while creating your small work of art?
2) How did the other person react to your expression of gratitude? And how were you affected by their reaction?
3) How long did these feelings last after you presented your gratitude art?
4) Have you thought of others with whom you wish to share your gratitude?