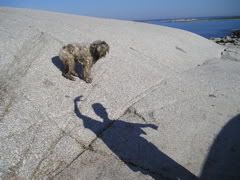 I'm taking a course from the
Benevolent Planet
called Consciousness Cornflakes, a little bit of a wake up in the morning that follows you through the day.
Last week's Consciousness Cornflakes had to do with our consumer culture. I always thought that culture was the way we passed on good ideas and art, how we learn about who we are, and the way spiritual practices are handed down. I always thought culture was an inside-out kind of thing. But consumer culture is from the outside, from the market place. So here are some thought provoking questions for you from my bowl of cornflakes.
How much of your time and attention is drawn to advertising, shopping, earning money, acquiring more and better things? What have you been worrying about, or at least feeling concern about, because of various consumer messages? Do these things add meaning to your life? Do they merit the degree of mental and emotional energy you have been giving them? I find advertising tells me that I don't have enough of almost everything material, that I don't have enough status, and that my hair is the wrong color. Harumph I say.
To counter those messages, I tried a fun little exercise on my morning walk with
Prospero and Edward
on the Prospect's head land. I started counting sense experiences. 12 sounds, 12 colors, 12 tactile feelings, and what happened was the inner chatter of the consumer culture telling me I needed more this or that was completely stilled. I felt the wind, saw amazing snow buntings flying in a flock, heard the waves, felt the various kinds of ground beneath my feel; slurpy soft earth, gravel, rock, driftwood boards over the really wet bits. I found myself smiling a huge, big smile, like Alice Walker's panther Lara.
So now when my Consciousness Cornflakes email comes in and asks me on a scale of 1 to 10, to rate how closely the consumer culture's values are reflected in my life, my priorities, my morning walks, or what I believe is important and meaningful I can say 0. I don't have listen to those anxious messages any more, I can experience my life; the colors, scents, and sounds, and I can breathe deeply with freedom.