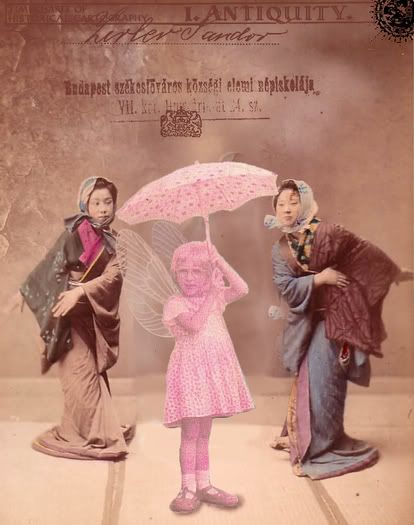 Playing with postcards again - altered by Lani
The Artist's Happiness Challenge is an e-course consisting of six artistic challenges (lessons) based on the current research being done in the field of positive psychology. I am posting challenges here.
5th Challenge
Do you remember the Brief Strengths Test in the Happiness Questionnaire? Seligman teaches that knowing your strengths makes it easier to achieve more meaningful forms of happiness.
Being able to think about, rank, and examine our strengths gives us permission to flourish and helps us in times of adversity. Betsy Rodriguez, a Bethel, Connecticut, family therapist-turned-life coach, says her awareness of her strengths helped her cope with the sudden death of her parents. In the days that followed the accident, Rodriguez comforted herself by expressing her second signature strength—appreciation of beauty and excellence—while writing her mother's obituary. At the funeral she consciously tried to use gratitude, her third signature strength. "I went up to everyone I knew, thanked them for coming and told them my parents would have been so honored that they were there," she says. "It made me feel strong."
Betsy Rodriguez's story can be found on the Psychology Today website.
http://cms.psychologytoday.com/articles/pto-20040107-000006.html
The Glee Club: positive psychologists want to teach you to be happier. Can they succeed?
by Willow Lawson
Publication: Psychology Today Magazine
Publication Date: Jan/Feb 2004
Last Reviewed: 17 Jun 2005
(Document ID: 3208)
Here's the challenge: Honoring our strengths.
Go back to the questionnaire and look through the strengths. Which ones do you know have helped you in times of adversity, through the long dark night of the soul? Looking through my test results (yes, I took the full version of this test at http://www.authentichappiness.org/) I see that Bravery and Valor was my third strength. When I think back on the most difficult period of my life I have to agree that this was probably the one strength that pulled me through, but that appreciation of beauty, love of learning, and creativity were not far behind.
So now the idea is to create a piece of art which expresses gratitude to our strengths. Look for ways to symbolize, honor, and celebrate these strengths. If you create a postcard size piece you could mail this to yourself. Another idea would be a mini shrine from an Altoid tin. See http://www.art-e-zine.co.uk/gillaltered.html or http://www.art-e-zine.co.uk/alttins.html for examples.