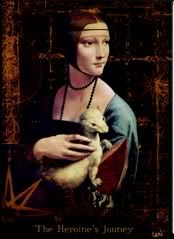 This is the cover of "Learning To Love Us More Every Day; The Best of Lani Gerity's Alternative Arts 'Zines (Vol. 1)"
I was talking with a social worker/artist the other day. She was expressing some distress about how to bring more art into her life, how to carve out the time in a day to do more of what gives her joy. I do hear this a lot, so I started thinking, why not have a little more art, joy and happiness in our lives? Don't we all deserve a life with at least some art and creativity woven into it? Maybe the artist/social worker is taking an either/or approach whereas maybe it would be possible to take a both/and approach, looking for little ways to build in more art, more of what gives her joy. It wouldn't mean that she would have to become a starving artist or anything like that to have more joy in her life. It would just mean building in the minimum daily adult requirement for happiness inducing creativity and art.
With my fairly comprehensive background in art therapy, masters and doctorate in the discipline, I keep coming back to the simple idea that by making art, and doing our very best, we learn to feel deeply happy, to pay attention to our life and the things that matter.