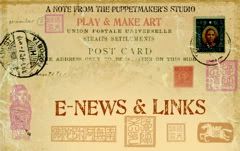 If you are looking for inspiring posters for schools and libraries, or if you would just like to look at some inspiring posters, The Foundation for a Better Life, is offering a set of five posters to schools and libraries. These posters are from their values-based billboard campaign. You can see all of FBL's billboards
here
. To request posters, please e-mail the Foundation at info@forbetterlife.org. Include your name, school name, street address (no PO box) and phone number (for shipping purposes only) along with the reason for your request. Each is considered separately and only one set of posters can be sent to each school. Incomplete requests will be not be answered and no posters will be sent without all necessary information.
For resources on Creativity and innovation check out the
Creativity Web
.
For an inspiring film clip of what looks like should be an inspiring film of a journey in a yellow vw across America go
here
.
Art heals has links of examples of how artists and arts organizations can and are engaged in helping bring relief to those affected by Huricane Katrina (and now Rita and Wilma too).
www.artheals.org/news.html#katrina
.
www.artheals.org/news_2005/oct05.html#katrina
.