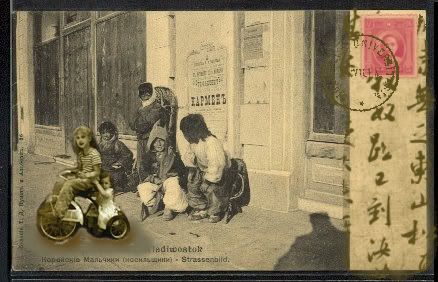 Some wonderful links:
The National Gallery of Art of Washington, DC, has an interactive kids section with collage machines and all kinds of amazing fun.
www.nga.gov/kids/zone/zone.htm
Keri Smith gave a talk to design student at UCDavis on how the artist's journal can influence their lives. She also has a pdf file full of journal prompts which you can download for free when you
click here.
If you or the folks you work with are using photo shop and need some amazing textures, this is the place for you:
www.mayang.com/textures/
And for Art Therapists in the New York area here's a symposium full of good things:
ART AS THERAPY WITH CHILDREN
Symposium
Friday & Saturday
December 2-3, 2005
Sponsored by:
the New York University
Graduate Art Therapy Program and
the Department of Art and Art Professions
OFFICE OF SPECIAL PROGRAMS
82 WASHINGTON SQUARE EAST, 5TH FLOOR
NEW YORK, NY 10003-6680
Symposium: Art as Therapy with Children, Friday & Saturday, December 2-3, 2005
This symposium is held in honor of Edith Kramer, a practicing artist
and pioneer in the field of art therapy, whose extensive work with
children and adolescents has educated and inspired art therapists
throughout the world. In 1973, she came to New York University
and established the Masters Program in Art Therapy. Author of Art
Therapy in a Children's Community, Art as Therapy with Children, and
Childhood and Art Therapy, and numerous articles, Edith also received
her honorary doctorate from Norwich University. The American Art
Therapy Association awarded Edith Kramer with the designation of
"Honorary Life Member" as a mark of its highest esteem. Currently,
Edith is an adjunct professor at NYU, and continues to create and
exhibit her own artwork.
As the profession continues to evolve and grow, art therapists are faced
with changes in licensure in addition to other new challenges.
This symposium is an opportunity to reflect on art therapy's
beginnings, while also examining the current role of art therapy in
schools, hospitals, and communities, and its impact on children's
social, emotional, physical, and creative growth. The program will
begin with a tribute to Edith Kramer, followed by a full day event that
includes keynote speaker, Laurie Wilson, and a panel discussion
with Gladys Agell, David Henley, and Judith Rubin.
Presentations
» Practicing Art Therapy in NYC's Public Schools:
Marygrace Berberian, ATR-BC, LMSW
»When life and death intersect: art, therapy, children, trauma
and bereavement: Robin F. Goodman, Ph.D., A.T.R.-BC
» Art Therapy in a Residential Treatment Facility:
Christina A. Grosso, A.T.R., B.C.E.T.S.
» Embodying the Aggressor; Art Therapy with Children Exposed
to Violence: Diana Milia, ATR-BC
» Adapting Art Therapy for Children with Physical Disabilities
and Chronic Medical Conditions: Pamela R. Ullmann, ATR-BC
» "hate Katrina": Critical Incident Art Therapy with Evacuee
Children, 5-days post-Katrina: Stephanie Wise,ATR-BC, B.C.E.T.S.
Cost:
$20 Students (lunch not included)*
$40 Professionals (lunch not included)
$10 Film Night: Students/Professionals (may be paid in advance or register at the door)
* All proceeds from the conference go to the Edith Kramer Scholarship Fund
Questions
Please contact the Office of Special Programs Tel: (212) 992-9380
Registration Deadline is
November 22, 2005.
(I know, it's the 23rd but I just got this today.)