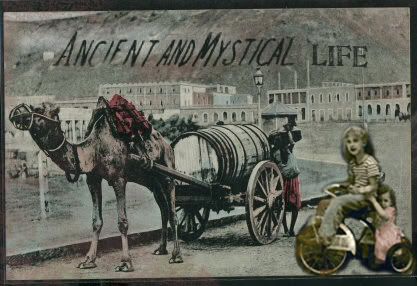 Collaged old postcard by Lani
The Tricylist and Passenger are myself and my younger sister, Lucia.
Every day I get a little email from the
Story People
in Iowa.
Here's today's story:
" Life Cycle
This is a special bike that's not very good at listening to excuses, so it takes you exactly where you really want to go & if you kick & scream it makes you pedal harder & go up steeper hills until you're too out of breath to complain & after awhile, if you're lucky, you start to see that it doesn't really matter if you laugh or cry, because it just wants to ride like the wind"
Isn't that perfect?
Don't you love Brian Andreas?