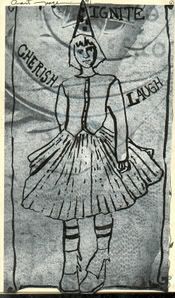 This was a response to one of the suggestions in Danny Gregory's new book, "The Creative License: Giving Yourself Permission to Be the Artist Your Truly Are"; to draw on something that's already got something on it. This was a very wild thing to try to do. Brain teasing and activates snoozing neurons. Fun in a challenging way.
For those of us who enjoy art challenges and assignments, the internet is a rich source for such things. Danny Gregory's
website
is packed with ideas. He credits drawing (or the attention to life which drawing demands) as the thing that saved his mental health and life following his wife's nearly fatal accident in the subway in NYC. To read more, go to Danny's website and scroll down to "My Conversion."
Drawing "...does help me to see the beauty in people and things, to cherish what I have, to reach out to others, to favor creation over destruction, to find peace and feel more alive.
May it do the same for you." -Danny Gregory
For lots of assignments join the
everydaymatters yahoo group
and go to the files section where you will find art challenges that will challenge you for a long time.
A few other places to look for assignments and challenges.
illustration friday
nervousness.org
collage artists
mail art
art by you
fluxus mail art
self portrait tuesday
52 figments
And here's swirlygirl's explanation of 52 figments.
"Figment [fig·ment] noun
1. Something invented, made up, or fabricated: just a figment of the imagination.
2. A contrived or fantastic idea; "a figment of the imagination"
Synonyms: creation of the brain, creature of the imagination, fabrication, fantasy, fiction, figment, imagination, invention, phantom of the mind, whimsy, wildest dream
52 weeks, 52 questions, 52 creations, 52 opportunities to think outside the box, make something up, ponder your most outlandish dreams and have some fun. At the beginning of each week for 2006, I will post a downloadable pdf foldable mailer with a new question. Some questions will be silly, some challenging, some straightforward and some completely outrageous. Print the file, cut along the dotted line, create your answer - write it, draw it, collage it, anything goes - and mail it to me!"
Alright, here's EDM challenge #1; a drawing of a shoe that turned into so much more.
I started with my leg, foot. and slipper; then I noticed Bruzzi, our newest Bergaasco, sleeping. I noticed I had to look very hard to find his nose. Then I noticed the cat noticing the setting moon. Wow! I was so glad to be awake to do all this noticing.
Thanks, Danny, for the challenge!