"What makes the desert beautiful is that somewhere it hides a well."
Antoine de Saint-Exupery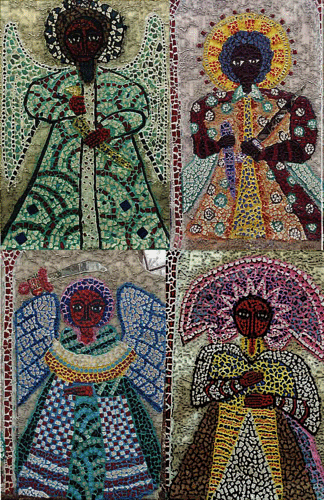 Do you know about Angel Alley?    
Located at 2518 N. Alder Street, Angel Alley was designed and painted by Lilly Yeh and mosaicked by James (Big Man) Maxton in 1991. Inspired by images from the Ethiopian Magic Scrolls, the angels function as protective figures guarding this community that faces countless challenges every day.
For more on Lilly Yeh's passionate ideas and work with community building through art please visit the
Barefoot Artists
and
Leadership for Change.
The University of Iowa Hospitals and Clinics
has a wonderful on line exhibit of Art That Heals: The Image as Medicine in Ethiopia with lots of images of Talismans and Scrolls and text from the book Art that Heals: The Image As Medicine in Ethiopia by Jacques Mercier, Lilly Yeh's inspiration.