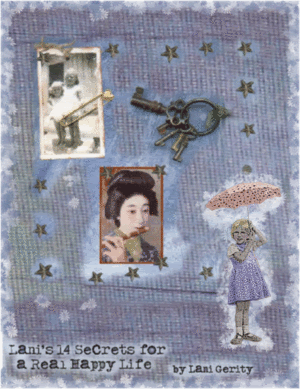 Cover of Lani's 14 Secrets for a Real Happy Life
These 14 secrets came out of my practicing the Artist's Happiness Challenges. I will give you the secrets here but if you would like the fully illustrated, suitable-for-printing-out and decorating-your-art-making-space-with version click
here.
Scroll down to the bottom of the page where you will find the 'zine image.
Secret #1.
Find 3 good things every day. Use them in your art. This could be some calligraphy, an old photo, a quote, or a particular color that struck you.
Secret #2
Make everything special. Embellish your life.
Secret #3
Look for Fairy God-Mothers and Angels. You will find them if you look carefully.
Secret #4
Play more often.
Secret #5
Look for the smiling faces.
Secret #6
Wish everyone a happy life.
Secret #7
Find something to love about where you are every day.
Secret #8
Make art every day!
Secret #9
Create time. (This one is magical!)
Secret #10
Honor thy grandmothers as much as possible.
Secret #11
PLAY with the grandchildren as much as possible.
Secret #12
Create beauty with what you have on hand.
Secret #13
Join every day art round robins. Make art with friends. Make art as gifts.
Secret #14
Create a list of secrets for a real happy life and pass it on.