Great Grandmother and Grandmother.
Betty and Little Lani.
Found these old snap shots, scanned them and played in photoshop with delight and abandon. So much fun! Keri Smith asked on her February 10, 2006
blog,
"what sustains you?" Something about seeing myself in this lineage is sustaining. Playing with their images, while imaging their lives in urban Chicago, embracing the stories of my grandmother, even as an adult taking delight in play, putting on her roller skates and horrifying my mother. Knowing that I came by my sense of fun and play honestly, sustains me.
"Being an artist... gives you a way of thinking where you don't need all the other things that normally people would think necessary. It's a space where the mind and the self is at the center. So in that way you can sustain yourself with very little." ~Rikrit Tiravanija
I like this idea of the mind and self being at the center, so that I can connect with my world, my dogs, my family from this place in Prospect, and I can feel the connection with my ancestry as well, and all of it sustains me.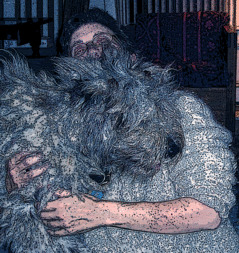 Me and Prospero
Cynthia Korzekwa of
Art for Housewives
talks about how exercising her senses sustains her. Simple things, like when she was a little girl, visiting her grandmother she'd wake up in the morning to the smell of brewing coffee and baking bisquits, she'd think:  Ah, what a wonderful day!  It's those very simple things that make life special.  
She says:
"Like readymades or found art, aesthetics are all around us just waiting to be recognized.  And their recognition comes  from our senses, or rather, from how our senses have been educated.  Our senses are like invisible threads that help us create a rapport with the world around us.  And their stimulation (or lack of) can change the quality of our daily life.  Senses are not meant to be stagnant.  They're meant to evolve.  And their evolution is determined, in part, by personal experience…the more your senses are exercised, the more they evolve.     And how can we exercise our senses?" 
Some wonderful, new-to-me links:
http://www.practicallycreative.net/home.html
is a free e-zine filled with creative ideas, inspiring articles, essays, fiction, poetry and art. A place to submit your work and to share your knowledge, from Cynthia Korzekwa's article about altering everything in her life with color and paint, to the very practical column on various mind altering creative practices like drawing from a new perspective, to looking at the world through a pin hole and a magnifying glass. Wonderful stuff here.
If you like folk art, brut art, and art dolls then look at Cher Shaffer's work on
Jane'sAddictions.com.
She writes how she created a group of "healing" fetishes that she made to help bring her back to the land of the living after a health problem that left her "clinically dead for about 3 and a half minutes. The figures were the first things that I created after that illness, and I called them Oracles From the Fire." There were seven of them, and they represented aspects of herself that she needed to work with.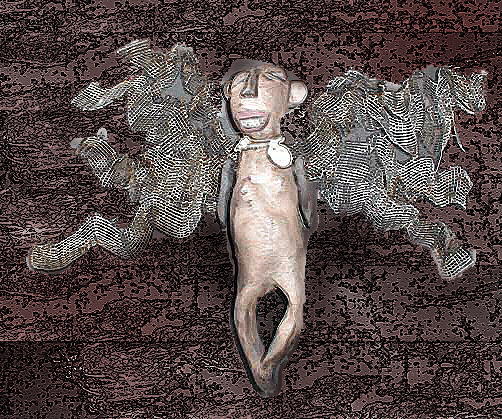 One of Cher Shaffer's art dolls.
This link to Jane'sAddictions.com came from eloqui, a wonderful artist and friend in the UK. To see her work and how Cher Shaffer inspired her, please see her artful blog
eloquicrow.livejournal.com