I know, this looks like a collage I posted earlier, but there are subtle changes like spanish moss and more photoshop play.
April 1st in Vermont with Gladys Agell and the Vermont Art Therapy Association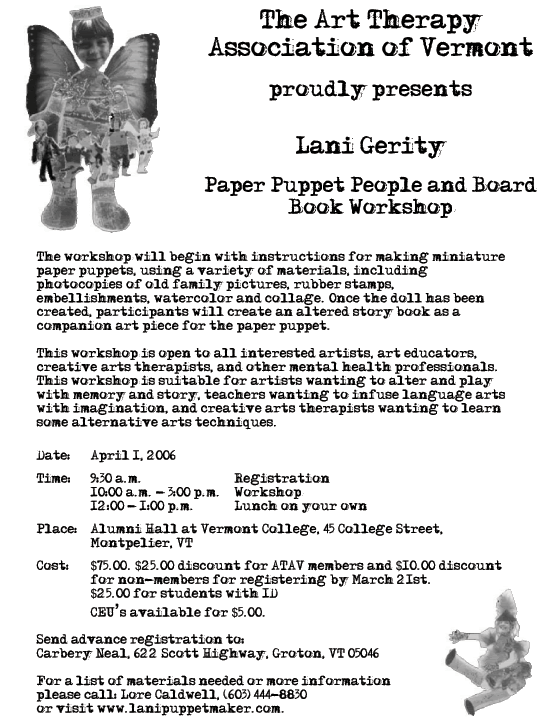 April 7th and 8th at NYU
Nelson, BC, June 8 to 10, 2006:
Innovation in Arts & Health Symposium
This symposium is sponsored by the Kutenai Art Therapy Institute, Kootenay School of Art, Selkirk College, Academy of Classical Oriental Sciences, Community First Health Cooperative, Interior Health Authority & Nelson and District Arts Council.
Innovation in Arts & Health Symposium Description
The primary focus of the symposium will be to consider the significance and interrelationship of arts, culture and health. The vision is to explore the role all forms of expressive arts play in promoting the health of individuals and families within the community. The connection between an individual's health and their involvement in creative expression through the practise of various art forms has been well documented. The intention is to demonstrate through presentations and workshops the value of arts and culture in all aspects of health: emotional, physical, mental and spiritual. It is anticipated that the symposium will strengthen and enhance the capacity of organizations in rural communities to build relationships that will open doors for artists to participate in meaningful work in health fields.
Later in June In Mississippi:
Intergenerational puppet-making and storytelling and
Creating Resilience through Puppet-making and Storytelling for professionals and volunteers working with communities under stress.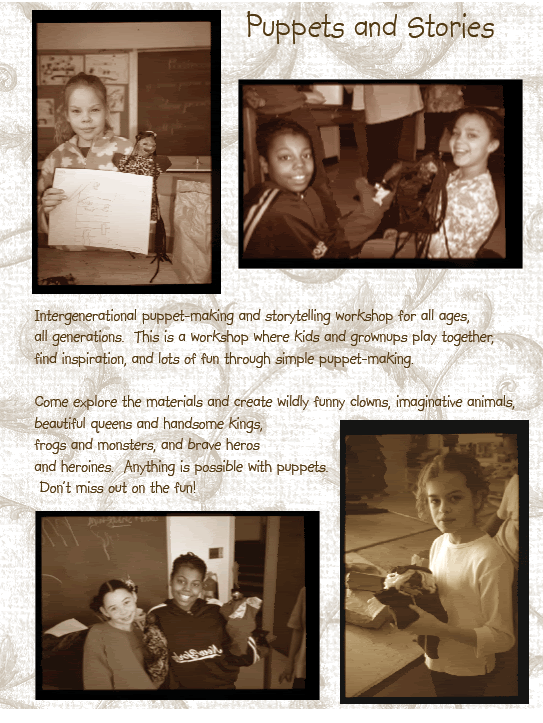 July in Michigan:
www.altercations.org