My little rag doll!
I had a fabulously wonderful and creative time in Nelson, BC! Thank you Monica, Joan and Anni. They really put together an encouraging, inspiring, generous weekend!!!
My personal highlights included Alison Fox's workshop: (Re) Construction and Repair: Hand Stitching as Therapy. I loved her way of bringing out our best work. I had to miss her talk but she's agreed to have a zine about her work of reconstruction and repair!
Corky Evans
the MLA for those lucky folks in Nelson gave a kind of inspirational political activism talk. Mostly what I learned was that politicians have a hard time speaking their minds because the media tends to warp and twist things into sound bites and god forbid you ever change your mind about something or make a mistake or worst of all speak the truth. God bless Corky.
We saw a wonderful video: The Self by Blake Parker and his buddy Jude... oh wow!
The Keynote Presentation was by Dr. Arthur Frank, author of The Wounded Storyteller and The Renewal of Generosity: Illness, Medicine, and How to Live(my personal favorite book), and a professor of Sociology at the University of Calgary. He is an international presenter lecturing to medical groups and universities. His current work is focused on developing a practice template for narrative medicine; this involves understanding illness/trauma as a series of "dramas" and having questions that initiate storytelling in which the clinician participates in those dramas. I can't wait for this book to come out.
Another very enjoyable Keynote Presentation was given by Janis Timm-Bottos on Constructing Creative Communities: Art, History and Science of Community Art Therapy. She really knows how to use power point and gives a very enjoyable and informative talk! Thanks Janis!
I also enjoyed being a part of a panel on Open Studios. Presented the Open Studios of artists in Mississippi and the idea of using the internet as a kind of open studio. Lots of fun!
Related to the conference or to my piece of it, I was asked in the previous blog, the best way to do the trades with in groups of folks working on artist trading cards. I think it is really important to make sure that people aren't giving away anything that they would rather keep and yet at the same time you want folks to be encouraged to do their best work.
With the art exchange that's done on the internet often you will have a call for atc's of a certain theme. The one that calls the theme will receive everyone's submission and then distribute them so that everyone who made one gets one from someone else. The advantage of being the one calling the theme is they get to choose whose ever they want to keep.
You could replicate this with your groups, letting different group members call a theme. You could explain that this is how it is done with mail art and art exchanges. And if folks make more than one card per theme, they can keep their own favorite card.
You can find examples of art exchanges happening here:
MailArt.org
nervousness.org
One World
And there was so much more but I have to go pack now. I'll be heading down to Mississippi tomorrow to do puppetmaking with folks who are still without homes from Katrina.
Stay tuned for more inspiration and stories.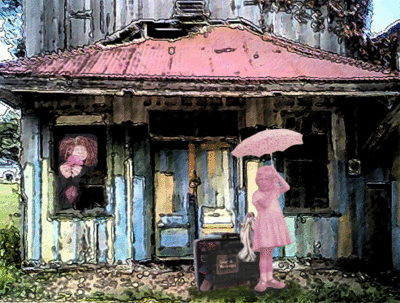 If you'd like to help or contribute art or puppetmaking materials to the Mississippi experience you can
click on the tip bucket here
or email me.
Thank you
jaihn
for your generosity!! A little of the UK will be in Mississippi